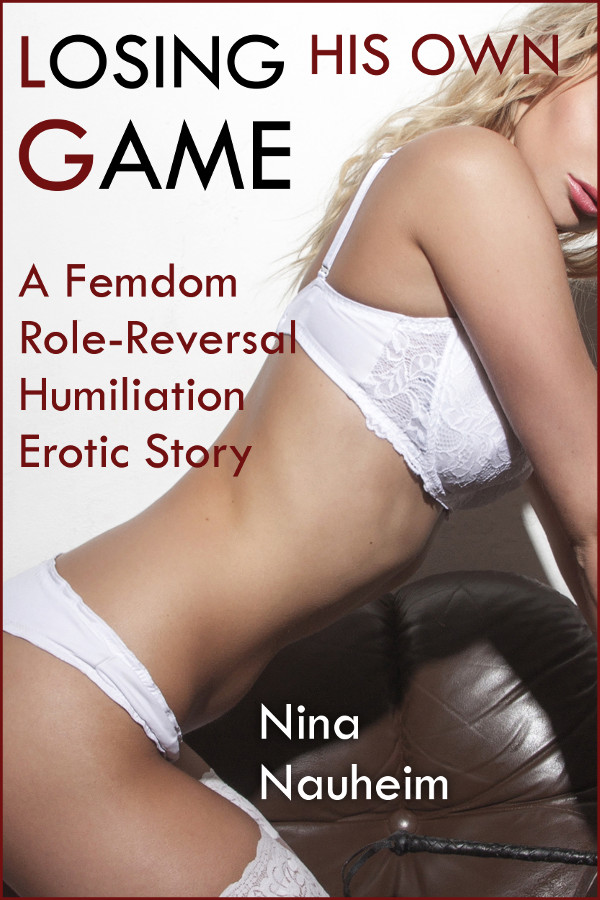 He thinks he's playing with her, but she's got a very different game in mind …
Reader Advisory: This story is for mature audiences only. It features intensely erotic situations, a dominant woman and submissive man, humiliation, role reversal, femdom dominance, and degrading backdoor sex. All characters are 18 or older.
Jason is a star athlete used to things coming easy to him, and doing a bit of yardwork for rich housewives seems like easy extra money. When he notices Ms. Savage checking him out, he thinks he can have a bit of fun with her. But before he knows it, he's falling for her, working for her approval, doing everything she asks. And that's when the well-built jock discovers she's more than he can handle, and she has some plans for him of her own …
Notice: This title includes themes and passages that have been adapted from the works of Jessica Whitethread with full consent of the original author.
Excerpt:
"You're a bold one, aren't you?" she said, still watching Jason, as much to herself as to him.
"What do you mean?" Jason asked, his pulse quickening.
She drew within a step of him and brought her hand to rest on his belt, hooking on finger into it with casual ownership and drumming her fingers against the growing bulge in his pants.
"Tell me," she said, "was your little display last Sunday a mistake? Or was it on purpose, like today?"
Jason's breath caught in his chest, and he could feel his face burning a deep crimson. He didn't know what to say or how to justify his actions. Somehow it had all felt so much less risky when it wasn't out in the open.
Ms. Savage's finger trailed down his cheek and brushed his throat.
"It wasn't very nice," she chided. "You know I'm trying to be good? I nearly broke the last boy I played with. I thought I would be nice and let you be. And then … and then you go and do something so very inappropriate, and you ruin all my good intentions."
Jason looked at her. She didn't seem angry, exactly. She was too in control to seem angry. There wasn't a shred of doubt or tentativeness in her movements or words. Not even waiting to see how he would respond. It didn't matter what he said. She was going to do with this situation exactly what she decided to do.
"I just -" Jason breathed helplessly.
"I know," she agreed sympathetically. Her right hand was still cupping his bulge. "I know. I'm irresistable. It's hardly fair." She undid his belt and slipped her hand down the front of his pants. It came to rest around his shaft, gripping it softly and running an idle thumb up and down its underside, making Jason gasp at the intensity of his arousal.
"You're not so bad yourself, physically speaking," she complimented him. "You have a nice cock. Big. And big, heavy balls to go with it. All those muscles. All that meddlesome testosterone. I'll admit you got my attention." Her hand slipped deeper and encircled his scrotum, holding it in her casual fist, slightly tighter than he wished she would. "But we'll put it to good use. Men are so easy to manipulate. It doesn't take long before they're doing exactly what you want. And we'll have some fun, you and me. You've got some of the equipment. Maybe if my husband had a nicer body I wouldn't go looking elsewhere for entertainment so often," she mused thoughtfully. "Then again, I'm sure I would."
She unzipped his pants and let them slide down to his thighs.
"You know what I love most about a nice big cock?" she asked, directing the question as much at him as at the bulge in his underwear. "I love seeing a big cock just flopping there useless. That's all it is." She looked up in his face. "You have to carry that thing around with you all the time, and I'm not even going to let you use it. No, not even a little bit. I have a much better system. I just keep mine in a drawer. Would you like to see it?"
"What?" Jason's voice was tight with arousal, paralyzed by her touch and how casually she'd taken ownership of his body with her hands.
Find it now on Amazon. Coming soon to Barnes and Noble, Google, and Smashwords.